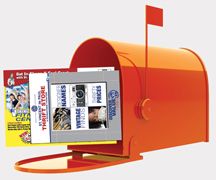 What is Every Door Direct Mail?
First launched as a test product in 2011 by the US Postal Service, Every Door Direct MailTM (EDDM) is a simple, most affordable way that allows local businesses to reach customers without the need for names or addresses. The new online mapping tool facilitates selection of the neighborhoods, cities or ZIP Codes to which the user wishes to market.
Many small businesses, such as restaurants, hair salons and contractors, market to local consumers. By reaching out to the surrounding areas; these businesses may increase their exposure and attract potential new customers.
As you may know, marketing campaigns can be difficult, this is where Thorpe Printing Services (TPS) will help you. With our marketing skills and experience utilizing Every Door Direct MailTM for many of our customers, we are able to quickly optimize your campaign to ensure the highest possible return on investment. To do this, we design an effective advertising message that is built to drive customers to your business. The USPS has even developed online specialized software that makes it easy to choose where you want to target: just point, click and choose the desired number of recipients, and your on your way to let potential customers KNOW YOUR BUSINESS!
What are the benefits of Every Door Direct Mail service?
Every Door Direct MailTM provides your business with an efficient way to promote your services. It delivers your marketing messages directly into the hands of consumers, while reducing the mail preparation costs associated with purchasing a mailing list and addressing each piece. As a result, it could help you:
• Build more traffic • Find new customers • Increase revenue
No Mailing List or Permit Needed!
Traditionally to mail a postcard you would need to purchase a permit which can cost as much as $450 just to open your account with the Post Office, this fee has been waived to mail through the EDDM program. Also, EDDM saves you the expense of a mailing list, by simply putting the words "Postal Customer" on your printed pieces; this allows the Post Office to deliver them to the routes that you have selected.
By eliminating the purchase of expensive mailing lists and permits from the post office, you will save hundreds of dollars on your direct mail campaign. Taking in consideration a 66% savings in postage compared to a first class stamp and EDDM becomes the most cost effective marketing tool for your business.
Thorpe Printing makes it easy.
Send Thorpe Printing your press ready file and we will print and ship the marketing pieces to you, or you can pick them up at our Marysville location; where we can show you how to prepare the mail for delivery to your local post office. Preparing the mail is not difficult, although there are guidelines you must follow, or leave it all to us.
With Thorpe Printing's Turn-Key solution we will design, print, and mail it for you!
Increased Response Rates!
By increasing the size of your card you will increase your response rate, larger cards get a better response. You can mail marketing pieces from sizes 6.25"x 9" up to 10"x 15" for the same low EDDM postage price. These sizes are much larger than a standard 4"x 6" postcard and costs about 10 cents less!
What types of businesses use Every Door Direct MailTM?
Arts Organizations • Attorneys • Auto Dealerships • Business Services • Contractors • Doctors • Dry Cleaners • Fitness Centers • Fundraisers • Hair Salons •
Non-Profits • Realtors • Restaurants • Retailers • And Many More
Call 810.364.6222 and get started TODAY!!!